DEFINITION
Backlight bleeding is a problem that occurs in LCDs (Liquid Crystal Displays) because they use an active backlight system. Basically, the entire surface of the LCD panel is lit up by a light source, and the LCD blocks out the light that isn't necessary for displaying a particular image.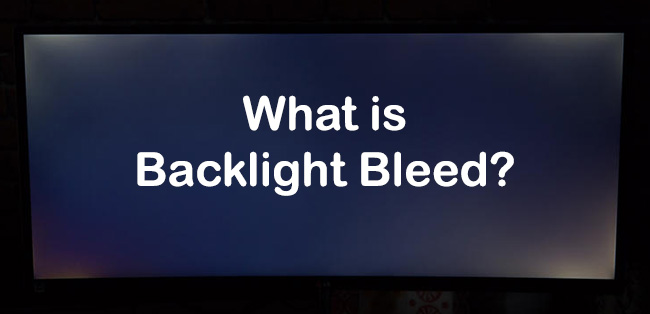 Backlight bleeding occurs as a result of light not being completely blocked in certain areas of the screen, resulting in bright spots that ruin your visual experience.
There are two major ways in which backlight bleeding can manifest, flashlighting and clouding. Generally, clouding is more prevalent in larger displays while flashlighting can occur in both larger and smaller ones. Light bleeding along the edges is also common, although far less noticeable.
HOW TO FIX BACKLIGHT BLEEDING
I. DON'T FORGET TO CHECK YOUR WARRANTY
If you spot this problem on a monitor that you bought recently, you can probably get it fixed or replaced under warranty. However, this might not always be the case. It mainly depends on the warranty policy of the display manufacturer.
Make sure not to try fixing it yourself in case you still have a warranty. This is mainly because your seller will make your warranty void if they see any signs of tampering.
II. LOOSEN THE FRAME SCREWS
Sometimes, backlight bleeding happens if the panel is screwed on too tight, causing it to warp the display. Use your screwdriver to loosen the screws that hold the frame. However, make sure not to loosen them too much as the display can fall out of the frame and break.
III. SLIGHTLY TWIST THE DISPLAY FRAME
In other cases, the display isn't sitting properly inside the frame. As a result, extra light is bleeding through the edges.
Turn on your TV or monitor to check if the bleeding is still there. In case that loosening the screws and twisting the frame doesn't work, move onto the next step.
IV. USE THE MICROFIBER CLOTH ON THE BLEEDING SPOTS
The backlight could be bleeding because the display isn't completely flat. Grease and dust are the most likely causes in this case. You can fix this by gently rubbing the bleeding areas with a microfiber cloth. Rub the bleeding spot in a circular motion and make sure not to use too much pressure.
Finally, give your display a few days to settle and repeat these procedures if there were no immediate results.
How To Avoid Backlight Bleeding In The Future
Sadly, backlight bleeding will always occur in displays that use an active backlight, so the only way to avoid it entirely is to invest in an OLED display. Of course, this is not an option for everyone, seeing as OLED displays are very expensive and will remain so for the foreseeable future.
So, rather than thinking about how to avoid it entirely, think about how you can get your hands on a display with minimal backlight bleeding. This is as simple as reading reviews, customer and professional alike, of the monitor/TV that you intend on buying.
CONCLUSION
Although backlight bleeding isn't a serious problem, it's quite annoying and affects many displays that use an active backlight. Make sure to check with your seller about replacing the faulty display before attempting to fix it, in order to avoid losing your warranty. If the method we provided didn't work either, your last hope would be to lower the brightness.